2023 Legal Tech Job Market: Top 10 Predictions
TRU Staffing Partners CEO and Founder, Jared Coseglia, recently authored an article in Legaltech News about the top 10 predictions for the 2023 LegalTech job market. In Q4 2022, things slowed a bit as recession threats loomed, but the overall job market shows continued promise. In 2023, full-time hiring may be slower in the first quarter, but the workloads are not going to be smaller, so look for a quick rebound. Download your copy now!

Legaltech News
Fill out the form to receive your copy of Legaltech News | Top 10 Predictions for the 2023 LegalTech Job Market authored by TRU's Founder and CEO, Jared Coseglia.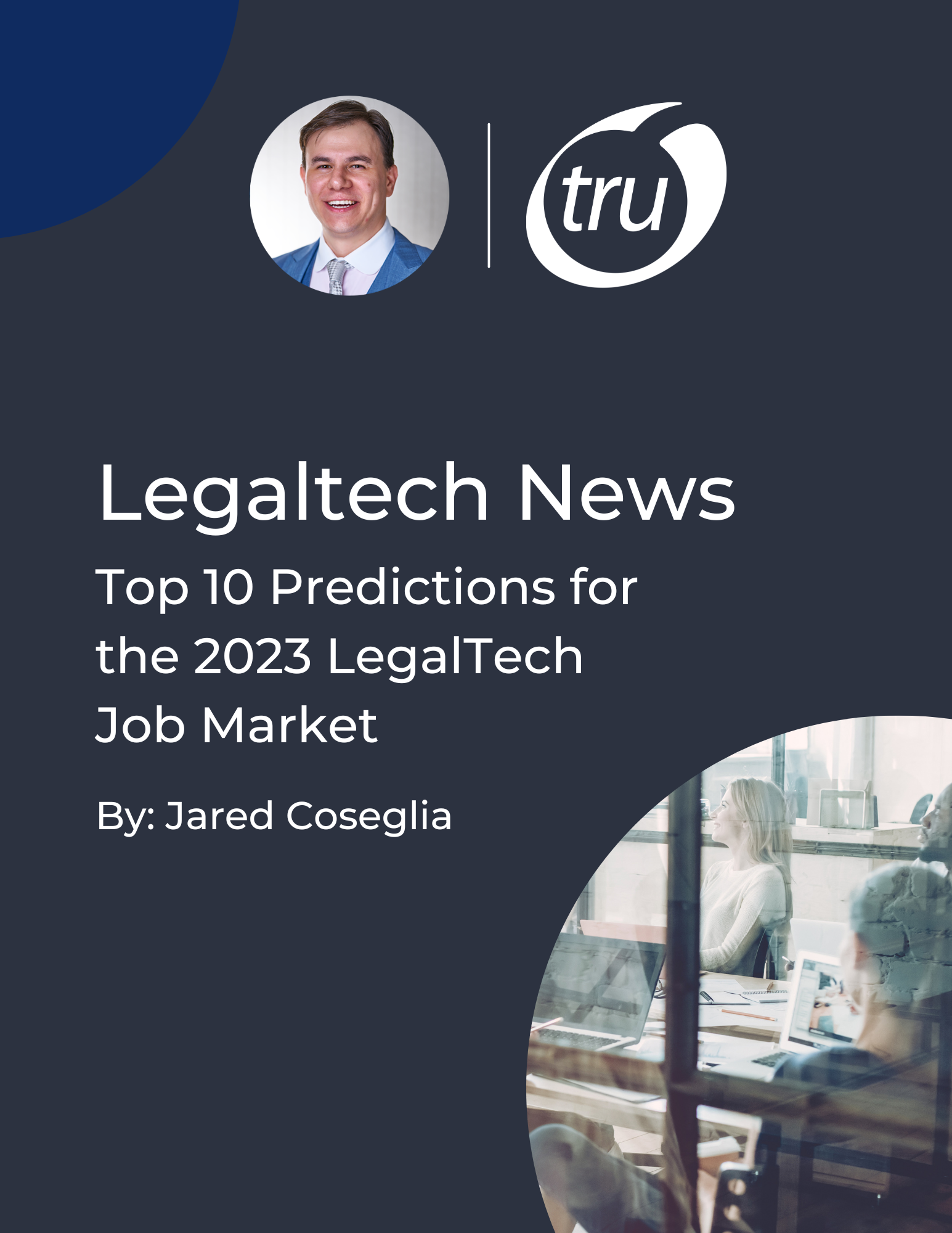 Contract ediscovery talent: Hire skilled ediscovery professionals on a temporary basis for short- or long-term assignments and on-demand support, either remote or on-site when workloads spike, unexpected projects hit, or employees are out.

Remote ediscovery talent: Hire offsite talent with confidence with TRU's roster of thousands of highly skilled ediscovery professionals capable of working remotely from anywhere.

Contract-to-hire: Assess a candidate on the job before committing to hiring them full-time.

Direct hire: Choosing your newest team member is a huge decision. We're here to make the process as smooth as possible to make sure your new hire is a perfect fit.

Executive placement/retained search: Our years of experience in legal technology staffing for our clients equips us to find you the perfect director-and-above level candidates – from business unit or functional leadership to the C-Suite across all facts of ediscovery sales, operations, and product.
ESI manager, specialist, analyst

Ediscovery project manager

Ediscovery team lead

Legal services solutions consultant

Legal technology implementation

Ediscovery product managers

Litigation support

Legal software sales

Ediscovery project manager

Ediscovery managing directors

C-Suite leadership
Extensive Network
We've got the hard-to-find, specialized talent you struggle to reach. Our relationships include candidates from TRU's multinational network. And each day, our talent pool gets deeper.
The right candidates
Our expert vetting process ensures that you only meet the right candidates - so you can spend more time staffing, and less time searching.
Deep Relationships
TRU has the world's largest marketplace of talented ediscovery professionals. We make it easy to quickly find & hire highly qualified and diverse talent that seamlessly integrate into your organization and help you get the job done.
Looking to make a career move?
Extend your job search and find the right role for you, whether it's full-time, contract, on-site, remote, or hybrid. Our talent agents promote you to employers, prep you for interviews, and care about your career journey - whether you're just starting out or looking to make the leap to C-Level.
Get Started